Arctic land use can heat up emotions
Climate change is projected to alter the Arctic more dramatically than any other region in the world. The Arctic today faces extraordinary pressures, with globalization and the climate crisis combining to drive change at an unprecedented rate. The opening up of new economic sectors, including mining and tourism, alongside the industrialization of many traditional livelihoods, such as fishing and forestry, are driving land use conflicts between competing sectors, and producing profound transformations on lives and communities at the economic, socio-cultural, political and environmental levels.
The ArcticHubs project is seeking to resolve conflicts over local resources and land through the use of new adaptive tools and approaches.
WHAT'S NEW?
ArcticHubs at the ArcticSpirit Conference 2023. Read more
here
.

---
Call for papers!
Submit a Manuscript to the Journal of Land Use Science
For a Special Issue on Sustainability Challenges in the Arctic: Exploring Land Use Changes and Their Impacts
Manuscript deadline
29 February 2024

---
Community engagement platform for data collection and conflict negotiation

The general aim of the ArcticHubs project is to explore ways to reconcile global industries with local livelihoods, as well as discover traditional and cultural ways of land use in the Arctic areas. As a part of this, the aim is to develop means for local citizens to participate in discussions and decision-making about land use in relation to different industries.
Development is made in selected areas, hubs which are important socioeconomic nodes representing various industries.
The advantages of Public Participation Geographic Information Systems
Geographic information systems-based participatory mapping methods such as Public Participation Geographic Information Systems (PPGIS), are increasingly used by decision-makers to improve the collection and utilisation of locally-relevant knowledge in decision-making and planning.
Read more on Innovation Newsnetwork
---
Last ArcticHubs General Assembly in Alagna Valsesia!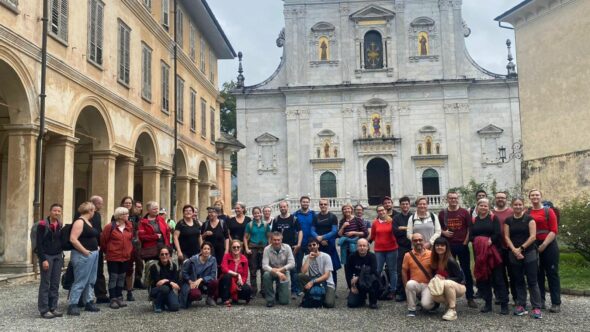 The ArcticHubs Consortium recently convened for its annual General Assembly in Alagna Valsesia, Italy. Hosted by the University of Turin, one of the key members of the project Consortium, this event held great significance as it focused on Alagna Valsesia Valley, a prime learning case for the ArcticHubs project.
This gathering served as a crucial milestone for the Consortium, uniting partner organizations and hub leaders from one of the project's learning case areas.
Read more here.
---
Understanding Maptionnaire
One effective approach to fostering collaboration and achieving sustainable use of land and water resources is through the collaborative design of solutions, involving local communities, researchers, stakeholders, policymakers, and local institutions. By actively involving these key stakeholders, we can ensure that the decisions made are inclusive, transparent, and aligned with the needs and aspirations of the community.
In this endeavor, Maptionnaire serves as a valuable tool for engaging the public and facilitating their participation in the process of generating additional layers of map content, such as land and sea use. Maptionnaire's interactive map enables individuals to contribute their knowledge, perspectives, and ideas, thereby enriching the overall understanding of the area and fostering a sense of ownership among the stakeholders.
By leveraging Maptionnaire's capabilities, we aim to create a collaborative environment where diverse voices are heard, enabling the co-creation of sustainable solutions for land and water resource management in the Arctic hubs.
---
ArcticHubs – How it works
The ArcticHubs project is an ambitious, multi-disciplinary international collaboration that aims to develop research-led, practice-based solutions to help address the urgent challenges faced in the Arctic.
The project will work towards this goal through four specific objectives:
Map and analyse global drivers influencing the future of the Arctic and explore how different kinds of global Actors in the region understand their social, economic and environmental responsibilities.
Identify and quantify environmental, socioeconomic, cultural and political impacts of current industrial activities in the Arctic, and assess how predicted changes in activity resulting from adaptive responses to climate change will affect these impacts.
Using a co-design approach, develop interactive tools for decision and policymakers to maximize uptake of knowledge of local situations and tensions, and to provide channels for continuous communication and dialogue with stakeholder groups.
Using foresight methods, change the perspective from that of the present to the near future, with the aim of broadening consensus on developmental goals for the region.
---
Arctic hub locations
(click the coloured buttons to show individual hub types)
And Learning Cases

---