ArcticHubs has a wide Consortium of 21 affiliate members, which represents some of the top Arctic involved research institutions, medium-sized enterprises (SMEs) and governmental actors.
The Consortium combines a diverse and multi-focal group of different project actors including not only academic researchers but also experts from SMEs and four practice partners institutions.
The researchers are coming from different countries and academic fields of applied sciences: environmental science, social studies, GIS experts, engineering, geologists, tourism studies, education and training, indigenous culture, anthropology, etc. At the same time, all project staff cover the 5 sectors of analysis of the project: fish farming, forestry, tourism, mining and indigenous culture.
Here are some of the project staff.
Senior Scientists
---
Dr. Pasi Rautio, project coordinator and senior scientist at LUKE.fi
Dr. Pasi Rautio is adjunct professor in plant and environmental ecology and he currently works as a principal scientist at the Natural Resources Institute Finland (Luke). His previous work at the University of Oulu in Finland and Stockholm University in Sweden has concerned issues like biodiversity and restoration of seminatural pastures; evolutionary ecology of plant-animal interactions and air pollution effects on forest ecosystems. He has worked also as a forest policy officer for the European Commission (DG Environment).
In his current research work for Luke he studies forest regeneration methods in areas that are facing the pressures of land uses, such as uses for tourism and reindeer herding. His other research interests include e.g. how climate changes induce changes in snowpack and can affect boreal forests. He is also a member of UNECE forest monitoring programme (ICP Forests) and contributed to the latest AACA-report (Adaptation Actions for a Changing Arctic). Read his interview here.
---
Dr. Leena Suopajärvi, senior scientist University of Lapland, WP1 leader
Dr. Leena Suopajärvi is a senior scientist at the University of Lapland and WP1 leader.
Read her interview here.
---
Young Researchers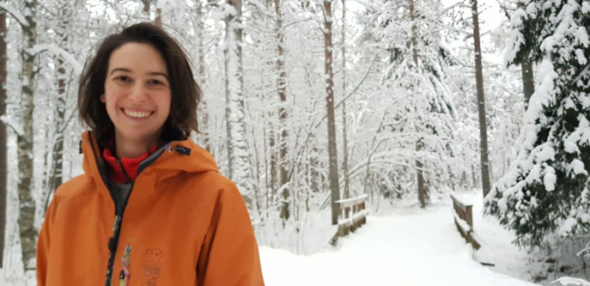 Sara Moioli, intern , University of Trento, Italy, research intern
Sara Moioli has a BA in Languages, Cultures and Societies from India and Iran, and graduated with a thesis about the relationship between poetry and nationalism. After that she spent 6 months travelling in the northern India, both studying the language and trying to experience as deeply as possible the complex and plural cultures of the area. She then enrolled in a MA in Territory and Environment Management, at the University of Trento, where she got the chance to delve into critical issues such as land-use conflicts, environmental policies and equity, and justice in sustainable development, food sovereignty and sustainable agriculture. Her master thesis has been about land use conflicts with a case study on a protected area close to her hometown, Bergamo. She is now doing her internship for the post graduate course TALETE Honour Program of the University of Trento (Italy).
Read her interview here.
---