We are very grateful to have young researchers and students, such as Sara Moioli, working around the ArcticHubs project. Sara is currently conducting her internship with ArcticHubs as part of the post graduate course TALETE Honour Program of the University of Trento (Italy). The course focuses on the topics of environment and sustainability and the ArcticHubs project is the case study that Sara is using. In this blog she tells us more about her studies, the DPSIR framework that she is investigating, and her experience of carrying on research in another country during COVID-19 time.
Tell us something of you and your background studies?
My university background is pretty heterogeneous: I studied Hindi and Farsi languages during my BA and then moved to sociology with my MA where I focused mostly on environment, territory planning and sustainability issues. I am particularly interested in land-use conflicts, environmental policies, equity and justice in sustainable development, food sovereignty and sustainable agriculture. That is why the ArcticHubs project makes a perfect case study for my final research.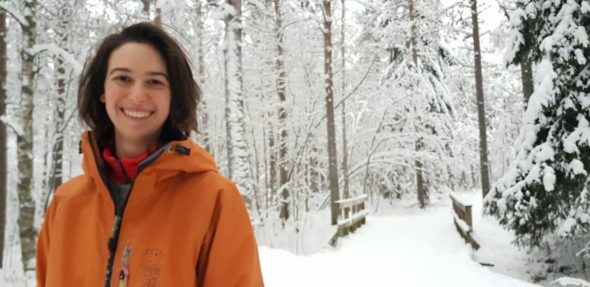 Which aspects of the ArcticHubs are you investigating?
I am currently focusing on the analysis of different elements of the ArcticHubs (AH) project. The first part of my investigation is related to methodologies used by the project. Along with an analysis of possible conceptual models which are applied to define cause and effect relationships of social and environmental problems. To this end, I am exploring the literature about the application of the Driver, Pressure, State, Impact & Response (DPSIR) framework in specific sectors – in fishery and aquaculture, forestry, tourism, mining and indigenous culture. These are the sectors of the ArcticHubs project and the main objective of my investigation is to provide examples and potential reference points for an effective use of the DPSIR framework within the ArcticHubs project itself.
Another part of my research is dedicated to two specific sectors of the project, namely tourism and forestry. Together with other senior researchers from WP1, we are analysing the main global and geopolitical drivers affecting the industries of both sectors and I am helping with the writing up of the reports.
How is your research progressing?
I am currently writing a working paper on DPSIR application and main critical aspects, as the first results stemming from my desk research on policy documents and literature around this framework.
After a first introductory section on DPSIR with its elements, analytical and communicative objectives and its indicators, the paper discusses the critical aspects of its application as they emerged from the literature review. These critical points are the over-simplification of causal relationships among categories and its inability to take into account and include local and, in general, politically and scientifically non-conventional perspectives.
The critical aspects of DPSIR application need further investigation as they are significant also in the context of ArcticHubs, for its complexity and its strong commitment to involve multiple social layers, such as local and indigenous perspectives.
The paper then presents examples of application using the DPSIR framework within each of the sectors included in the project. In the final section, I suggest some possible integrations between the DPSIR model and other analytical tools. For instance, the DPSIR could be integrated with two participative elements already used by ArcticHubs project, PPGIS and SLO. Furthermore, it could be combined with Ostrom diagnostic framework for the analysis of socio-ecological system sustainability. The Ostrom is a more complex but also less communication and policy oriented analytical model – and used in a complementary manner.
How did your studies around the Arctic research sector begin?
They actually began with the ArcticHubs project. The Arctic context was almost completely new for me, but the project approach and its objectives seemed perfectly fitted with my research interests in land use conflict. The timing of the project research also correlated, and so I applied for the internship.
Furthermore, the specific urgency of environmental issues in the Arctic allows me to engage in highly committed research activity.
In which ways your research can support ArcticHubs project partners and stakeholders in achieving the project aims?
I think that the application of DPSIR model could be useful to produce more accurate policy proposals. Since one of the main objectives of the project is to develop suggestions for decision makers about sustainable development, an effective application of this (DPSIR) analytical tool could lead to more accurate and inclusive results.
On the second aspect of my study, the investigation of Global and Geopolitical Drivers impacting the Arctic, the objective of the research team of the ArcticHubs is to deliver a synthetic, clear and accurate picture of what is perceived to be impacting the industries, and this should provide both a macro-context description and a 'priority list' of what should be considered when dealing with sustainability in the Arctic region.
How did the Covid-19 pandemic interfere with your research path, if it did?
The Covid-19 pandemic has had a major impact in my decision to apply for ArcticHubs project: it diverted my journey!
Back in winter 2019/2020, I was planning to carry on my research abroad and my destination was India, to study local practices for sustainable agriculture along with seeds conservation and exchange. At that time travelling (especially outside Europe) became almost impossible. So I started looking for new projects to join and I learnt about ArcticHubs, which suited my interests perfectly.
I could say that the Covid-19 pandemic has brought positive effects, since it offered me the opportunity to get in touch with new stimulating possibilities and interesting experiences!
To conduct your field work you recently moved to Finland, can you tell us what captured your attention so far?
Until now my work has been almost entirely theoretical and analytical, but I really hope I'll get the chance to conduct some interview and field work in the new, stimulating context of the Arctic land!
What's your next research step?
In the next weeks, I will be further working on the DPSIR literature review, trying to make a general description of how it has been applied in the project sectors, and trying to answer the question on how it could be used in the Arctic context.
Until today there are very few examples of DPSIR application in the Arctic region, I think the ArcticHubs project could be an interesting and innovative example of its implementation.
Biography
Sara Moioli, MA student University of Trento, Italy
I am originally from Bergamo, northern Italy. I studied in Venice for 3 years for my BA in Languages, Cultures and Societies from India and Iran, and graduated with a thesis about the relationship between poetry and nationalism. After that I spent 6 months travelling in the northern India, both studying the language and trying to experience as deeply as possible the complex and plural cultures of the area. I then decided to move toward social sciences and I chose Trento university for my MA in Territory and Environment Management, where I got the chance to delve into critical issues such as land-use conflicts, environmental policies and equity, and justice in sustainable development, food sovereignty and sustainable agriculture. My master thesis has been about conflicts in a protected area close to my hometown.
I also enrolled in an extra-curricular programme organised by Trento University, in partnership with Trento Centre for International Cooperation, that provided insights about international cooperation and sustainable development issues, technical training in Europlanning and research methodologies. Beside studying and research activity, I am passionate about outdoor activities like hiking, biking and growing vegetable gardens; I also love literature, cinema and theatre.