Interview with Dr. Leena Suopajärvi, senior scientist at the University of Lapland and work package 1 leader at ArcticHubs.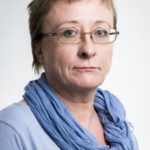 Dr. Leena Suopajärvi is the lead scientist for one of the main research action of the ArcticHubs project and that is the study of global trends and industrial development impacting upon land, livelihoods, communities and stakeholders of the Arctic region.
We discuss with Dr.Suopajärvi how she became involved in the investigation of Arctic land use conflicts from her sociological studies and listen to her unique perspective of investigating local social movements. She tells us more about the progress of the research so far, and shares insights on the possible future scenarios for the European Arctic.
How did your professional journey through research in the Arctic begin?
I was studying sociology at the Jyväskylä University, in Middle-Finland, where I was privileged to attend some very interesting lectures and seminars about citizen activism and social movements. In Lapland, in those days, early 1990s, the dispute about building a water reservoir Vuotos was a very hot social issue. I decided to carry out some interviews with local activists who were against the construction of the reservoir. It started me on the path that has continued ever since. I did my doctoral thesis on hydro power conflicts in Lapland in 2001, and ever since then, local people's roles in large industrial developments (for example mining) has been a strong thread throughout my scientific work.
Do you remember the first time you directly came across Arctic land-use conflict issues? and how this has impacted your research work subsequently?
Yes, I certainly remember. I was a schoolchild in the early 1970s when there were plans to harness the River Ounasjoki. It would have meant building several dams and associated water reservoirs. One reservoir was planned to be built near my home, and I was very worried as a small child how I could get home if the road was blocked because of this reservoir. So – as you see – even children follow discussions of media and worries of their relatives. I think this experience may be the reason for me wanting to be heard in the decision making process, rather than ignore these issues!
What is your role within ArcticHubs project?
My main role is as the leader of work package 1 (WP1). Later on I will participate in the activities of work package 5, which focus on how global drivers and local consequences might be approached in a collaborative manner, so that sustainable solutions may be found. The work has been very interesting as researchers in WP1 come from many scientific disciplines, and also from different countries. Unfortunately we have been able to meet only once face-to-face so far.
I think that informal communication is also important when conducting large research project – after all, we are very much involved in collaborative group work.
What are the main tasks and research objectives of WP1 team? And what is the progress of its research now?
WP1 research objectives are to identify and analyse global drivers that have an impact on Arctic industries: aquaculture, forestry, mining and tourism. At the moment with the preliminary findings we are writing two project reports: one about the geopolitics of different industries, the other about global drivers in the Arctic in general. Reports about climate change and the link with local/global industries will come out in summer 2022.
My fellow colleague Dr. Vigdis Nygaard from Norce, Norway, and me are editing the project reports. Considering that it is almost 7 pm now, mid-December, and so far I haven't had time for Christmas preparations, we are all pretty busy!
However, I don't consider doing research and writing reports as "tasks" – the topic of research of ArcticHubs is very interesting and important for me, for us:
What we do at ArcticHubs, for us – as most of our researchers are not only researchers but they live here, up in the North, and I suppose we all want to find right and sustainable ways to live in our cities and small communities.
Can you tell us more about the possible consequences of the global trends as they are emerging from WP1 research?
We just had a webinar (30.11.2021) regarding the global-local nexus in European Arctic. The message that WP1 researchers wanted to communicate with this webinar and that emerges from the first analyses was quite clear, and it is also in our project reports:
European Arctic is not a hinterland. Although a number of social problems are visible, such as pressures of outmigration and aging population, growth is expected.
The growth in all industries means that we need new workforce up in the North. The question then becomes how can we attract people to move and stay in the North? It has to be said that public and private services are not on the same level as in central cities in the South of the Arctic, for example in our capital areas.
In Lapland we have a saying "There is plenty of room for all" – and usually it means that there is plenty of room for all different industries, especially for large-scale developments. The next research steps within the ArcticHubs should investigate if this is really true? And what are the local consequences of such developments?
Intensification of economic activity in all the sectors studied within the project it is also bringing additional pressure on the environment.
Tourism, mining and forestry need additional infrastructure and energy, perhaps produced by wind mills nearby. This is a serious question: is there room for all?
Maybe there is room only for responsible mining, or for the forestry industry only in selected areas and for tourism, if this will be able to avoiding over-crowding.
How do you see the future of the European Arctic?
I think the future in the European Arctic is very much interlinked with global consumption of the products of forestry, mining, and aquaculture. How these industries benefit local communities is very relevant for social sustainability and also for social license to operate (SLO), that means, as a principal starting point, the acceptance of these industries by local communities.
In the webinar, the president of Finnish Sami Parliament, Tuomas Aslak Juuso kindly asked how all these different industries understand the nature? This question relates also to a question of human nature: is nature only for extracting and exploitation from different industries?
The Sami approach is more holistic:
Nature is, after all, where we all live.