By.Jerbelle Elomina and Ivana Zivojinovic (BOKU, Vienna)
The Arctic Science Summit Week (ASSW) 2023 held in the beautiful city of Vienna just concluded and it was a massive success!
Thanks to the organizers: International Arctic Science Committee (IASC) and the Austrian Polar Research Institute (APRI) for providing the extensive opportunities to share research findings.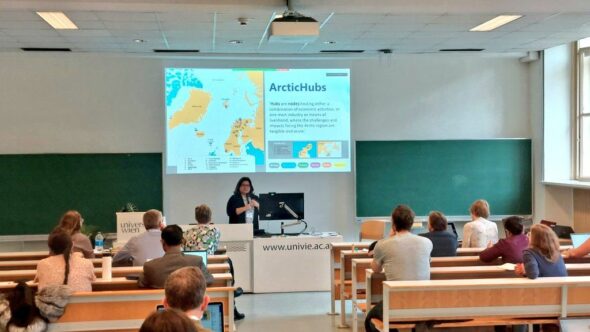 Being hosted this year in BOKU's home base of Vienna, meant it was an ideal opportunity to attend a diverse range of events and sessions… In particular BOKUvienna team of Ivana Zivojinovic and Jerbelle Elomina embraced the spread and diversity of discussions, presentations and workshops to ensure ArcticHubs project had a dynamic presence at this annual gathering. We learned so much about the current research and latest developments in the Arctic Sciences. The conference also brought together a wide range of disciplines including natural sciences, social sciences, and humanities, to foster a more holistic understanding of the Arctic region and its complex systems.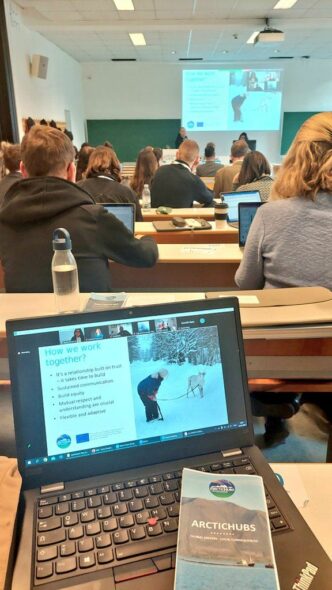 We were able to join the European Coordination of Polar Research workshop where all the EU funded polar projects were able to present their projects and create synergies with each other. Current working and action groups were further discussed and new ones were created, as well as future collaborative events. It was a long day but the honest discussion between the partners and coordinators about the resources needed to participate in such events provided points for improvement of the cluster.  We also attended the presentation of results of our sister project Just North, and I was really impressed by their findings and how they presented them. Definitely looking forward to their publications!
Additionally, one of the key topics we were able to focus on while attending the conference was co-creation with indigenous rightsholders and forming synergies. We were able to talk to some indigenous groups from Russia, Sweden, Norway, Canada and Alaska and listen to their stories of how climate change, colonialization and even how science can hurt them. It was eye opening and indeed made the challenges of the Arctic more real and urgent. As we all listen to their speeches and future stories, we ask; what can science do, what can we do to help them? As researchers, we can always use our resources, how limited it may be to spread information and increase the awareness of people outside our field on the ongoing problems in the Arctic. It's not just climate change that drives the changes in the North, but also our increasing demand for resources. We need to create better understanding and propose better community-based solutions while making sure that we listen, and I mean, really listen to our indigenous and local partners.