The goal of the road map and progress
This is the first national food waste road map in Finland. This road map was generated as a result of a process of a few years. During that time, two workshops were organised for companies, associations, authorities and other stakeholders of the food chain, numerous scientific publications were studied, more than 20 expert interviews were conducted, and a number of brainstorming sessions were held between members of the research group. This road map is also based on the results of previous food waste projects, particularly the results of regional food waste road map workshops arranged in the region of Southwest Finland.
On the basis of data collection, the research group has formed six central thematic areas, or spearheads, to guide the reduction of food waste in Finland. Each thematic area includes more detailed solutions to reduce food waste. The thematic areas focus particularly on reducing food waste. The reduction and utilisation of inedible food waste have not been discussed specifically in this road map.
The purpose of the road map is to help to identify key solutions for reducing food waste. Another goal is to clarify solutions and ideas, and to make them more concrete. The aim is to identify existing food waste solutions and monitor them as part of the waste road map. The road map is also part of the national waste plan (VALTSU). As a result, revisions and updates are also made on the basis of the Waste Framework Directive.
As part of the implementation, the impact of the solutions on food waste will also be measured and monitored. Suitable measuring methods and indicators will be selected on a solution-specific basis (such as Quested 2019). In addition, the total volume of food waste will be monitored using a food waste monitoring system covering the whole of Finland. In the future, proposals for solutions should also include assessments of their economic feasibility and environmental impact. Furthermore, the solutions should be based on compliance with food safety requirements.
The road map is maintained and updated on this site. It will be updated constantly and linked to existing and new research projects, development projects, policies and business solutions. This means that the road map is still a work in progress, and companies, associations, authorities and other stakeholders of food chain should take an active approach to updating it.
Thematic areas 
The food waste road map is divided into six thematic areas (spearheads) (Figure 1). Each area includes measures to reduce food waste. Click the headings on the right to view the content of each spearhead in more detail.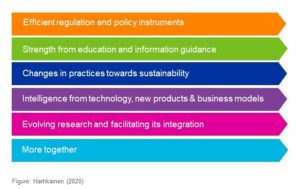 Figure 1. Six thematic areas.
Even though the thematic area form independent entities, they inevitably overlap in places and support each other (Figure 2). Together, the thematic areas form a large whole, where it is important that every thematic area in the road map is promoted to make the reduction of food waste as effective as possible in Finland.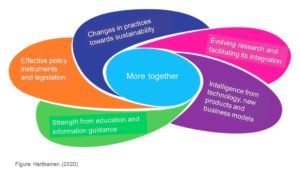 Figure 2. The six thematic areas are closely linked to each other. 
The thematic areas, aimed at reducing food waste, differ from one another, depending on such factors as the extent to which their actions focus on: 1) technological change vs sociocultural change; and 2) market-driven change vs. incentives and sanctions.
Technological change vs. sociocultural change
In the "Smart solutions, new products & business models from technology" thematic area, solutions focus on technology, and research and development (focus is placed on technological change). In the "Towards a more sustainable society through education and knowledge" thematic area, solutions focus on increasing knowledge and making a sociocultural change. In other words, the goal of the solutions is that food waste can be reduced through extensive changes in attitudes and increased understanding. The "Towards a more sustainable direction by changing practices" thematic area combines technological and sociocultural changes. The starting point is to guide consumers and food chain operators to reduce food waste, which requires tools, but also commitment to reducing waste.
In Figure 3, the waste solutions (colour-coded) that belong to these three thematic areas have been divided according to how technologically and/or socioculturally radical the different measures are. The measures support each other and, for example, a sociocultural change requires that waste is communicated and incorporated into basic education and parenting.
Market-driven change vs. incentives and sanctions
As a rule, the solutions identified in the thematic areas are market-driven, meaning that they must be acceptable and financially profitable. In the green area in the bottom left-hand corner in Figure 3, most solutions are market-driven waste solutions that usually lead to gradual changes. Using the "Effective control measures" thematic area (orange boxes over the grey cloud in Figure 3), the aim is to create incentives and sanctions towards new solutions that may not be market-driven at present. Effective guidance is needed not only to make the solutions more radical, but also to ensure that the solutions are steered in the desired direction and that there are synergies between them. For example, this national food waste road map is an important part of effective guidance.
Thematic areas that support solutions
In addition, thematic areas that support the whole were identified: "Research and waste monitoring" and "More together" aim to promote the exchange of research data and the identification of good practices, as well as the engagement of the entire food chain and its stakeholders in the goals of the waste road map. Together with the "Effective policy instruments and legislation" thematic area, these three thematic areas guide and support food waste solutions (grey cloud in Figure 3).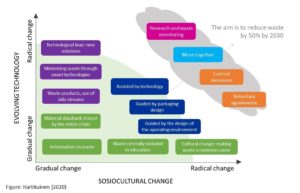 Figure 3. Thematic areas (colour-coded) linking to each other. The goal is to significantly reduce food waste.