Finland has the world's largest certified organic collection area, 11.6 million hectares, which accounts for 30 percent of the world's total organic collection area.  The organic collection area accounts for 38% of Finland's land area and most of it is situated in the regions of Lapland, Northern Ostrobothnia and Kainuu.
The ten countries with the largest organic collection areas in 2015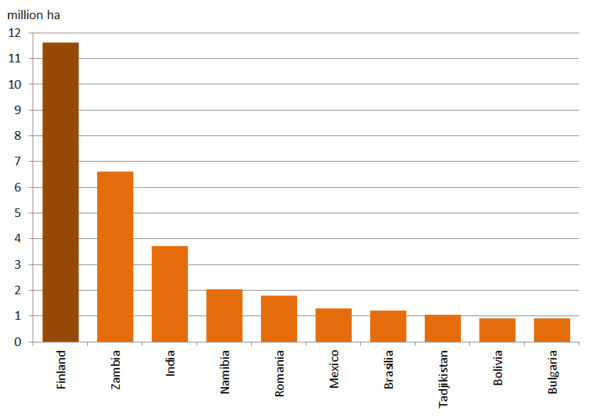 Source: Willer H & Lernoud J (2017) The world of organic agriculture statistics and emerging trends 2017, Research Institute of Organic Agriculture FiBL and IFOAM – Organics International, p. 87. Link to report
Not all wild berries can be labelled organic. The key requirement is that no chemical fertilisers or pesticides have been used in the picking areas over the previous three years.
Only wild plants or parts thereof, harvested from collection areas covered by supervision, may be designated as organic, provided that the seller of the organic collected product is covered by organic control. Forest berries, birch sap and natural herbs are the most common Finnish organic products collected in the wild. Reindeer, game and other products gained from wildlife hunting and fishing do not fall within the scope of the European Union's organic regulation, and cannot therefore be marketed as organic produce.
Commercial organic collection requires the business to prepare a detailed organic plan, registration with the organic control authority, and continuous compliance with the terms and conditions of organic production. Everyone involved in the processing of organic collected produce, including the pickers, buyers, drivers, freezers, cleaners, packers and other processors, and exporters, is part of an unbroken control chain, ensuring the compliance and traceability of organic berries. All operators involved in the control system are inspected at least once a year. In 2016, 30 companies were included in the organic control programme.
In the 2000s, the share of organic berries has increased to about 30 percent of wild berries collected. In 2016, more than 3,270 tonnes of organic bilberries were harvested for sale, which accounts for almost 60% of the total amount of bilberries sold. As in previous years, approximately 94 tonnes of organic cloudberries were harvested for sale and around 38 percent of all cloudberries sold were organic.  In 2016, the lingonberry harvest was the best in more than twenty years. The same is true of organic lingonberries, as almost 1,470 tonnes were picked for sale. However, this accounted for only 13 percent of the total sales of lingonberries. In 2016, organic bilberries yielded the highest income from picking, almost EUR 3.7 million. The income figure for organic lingonberries was EUR 1.2 million and that for organic cloudberries was EUR 675,000.
Organic is a certified production method and a brand that gives the product added value in marketing. Finnish consumers or private pickers do not see any significant difference between standard and organic berries picked in the forest, nor do pickers of organic berries receive a much higher price for berries picked. But the situation is different in the market and in the case of processed products: Consumers most often encounter organic produce as part of a processed organic product, such as yoghurt. Organic products are becoming increasingly important in processed foods, cosmetics and health products, as well as exports. Significant quantities of organic forest berries, bilberries, lingonberries and cloudberries, in particular, are exported from Finland. Demand for wild organic berries is high, particularly in Asia. In Finland, wild organic berries accounted for approximately 28% of total sales of berries in 2016.
The organic collection area in Finland can be more than doubled, because over 90% of Finnish forests would be suitable for organic collection. The product range also has potential for diversification, for instance as regards fungi and raw materials for organic cosmetics. Particularly in southern Finland, the challenge lies in excluding areas that do not meet the requirement for a three-year transitional period from the scope of organic collection, and in maintaining information about these areas, for example forests that have been treated with urea to prevent root rot, where chemical pesticides have been applied to prevent grass growth, or where certain chemical fertilisers have been used.
The natural conditions, forest ownership structure and practices deeply rooted in Finnish society contribute to the country having the world's largest organic collection area and the potential for expanding it. Wild organic produce is picked under public access rights, so-called everyman's rights, in the world's cleanest conditions, in cooperation with well-organised private forest owners and organisations, and utilising the latest information technology and data open to all. This special overall situation cannot be duplicated anywhere else, as such, but on the other hand, Finland is solely responsible for the full-scale utilisation of the opportunities.
Database table

---
The ten countries with the largest organic collection areas in 2015
Reference
---
[1] Helsinki University, Ruralia Institute – Or­ganic wild col­lec­tion in forests,  Link to Project's website
Photo in upper edge: Pixabay