AquaIMPACT Final conference: Nutrition and breeding
AquaIMPACT will organize a public Final Conference in Vienna, Austria, on Monday 18th September 2023, just before the Aquaculture Europe 2023 conference, at the conference venue.
We invite our partners, networks and people interested in aquaculture breeding and feeding to participate the AquaIMPACT Final Conference.
No registration needed. No streaming, so meet us at the conference venue!
Date: Monday 18th, September 2023
Time: 13:30-17:00
Place: Messe Wien Exhibition and Congress Center
Address: Messeplatz 1, A-1021 Wien
Room: Brasserie, located on 1st floor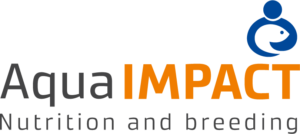 This event will present and discuss the results and impacts of the AquaIMPACT project, and will bring together also other EU Horizon projects working on breeding, genomics and nutrition, namely FutureEUaqua, NewTechAqua, iFishIENCi, and Aqua-FAANG.
The Agenda:
Horizon 2020 projects: AquaIMPACT, FutureEUaqua, NewTechAqua, iFishIENCi, Aqua-FAANG
AquaIMPACT results and impacts, and Round Table discussions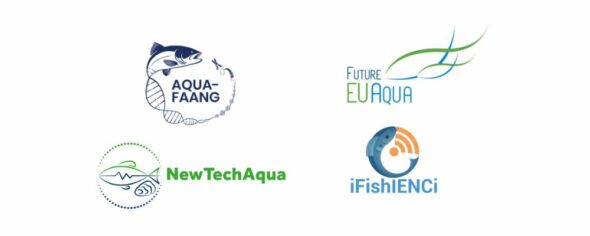 AquaIMPACT – genomic and nutritional innovations
AquaIMPACT is a major effort to integrate the fields of fish breeding and nutrition to increase the competitiveness of the EU's aquaculture of Atlantic salmon, rainbow trout, gilthead sea bream and European sea bass, to ensure food and nutrition security and to satisfy consumer demands for high-quality seafood with limited environmental impact.
During the last five years, AquaIMPACT has:
Demonstrated the success of commercial selective breeding programs in improving fish traits
Facilitated the implementation of genomic selection in breeding programmes, to take breeding programmes to the next level
Developed feed formulas and fish nutrition for the fish originating from breeding programmes
Developed smart software and automated phenotyping to improve cost-efficiency of breeding and feed development
Assessed consumer perception on these developed methods and aquaculture production methods in more general
AquaIMPACT final conference (Open to public)
Session 1: 13:30 – 15:00
| | |
| --- | --- |
| 13:30 – 13:40 | Welcome and AquaIMPACT concept (Antti Kause / Luke) |
| 13:40 – 13:50 | Genomic innovations in breeding programmes: Results and impact (John Bastiaansen / Wageningen University & Research) |
| 13:50 – 14:00 | Discussion |
| 14:00 – 14:20 | Partner presentations on genomic innovations |
| 14:20 – 14:40 | Discussion |
| 14:40 – 14:50 | Nutritional innovations for selectively bred farmed fish: Results and impact (Daniel Montero / Universidad de Las Palmas de Gran Canaria) |
| 14:50 – 15:00 | Discussion |
| | |
| --- | --- |
| 15:00 – 15:30 | Coffee break |
Session 2: 15:30 – 17:00
15:30 – 15:50
Nutritional innovations, continued

Partner presentations on nutritional innovations

Partner presentations on consumer studies

15:50 – 16:00
Discussion
16:00 – 17:00
Round table: Future R&D&I needs

Discussion on the future directions of aquaculture breeding and nutrition of farmed fish originating from selective breeding programmes. The discussion includes interviews of the sister projects: NewTechAqua, Aqua-FAANG, FutureEUaqua, and iFishIENCi

17:00
Conference ends
18:00 EA2023 Opening ceremony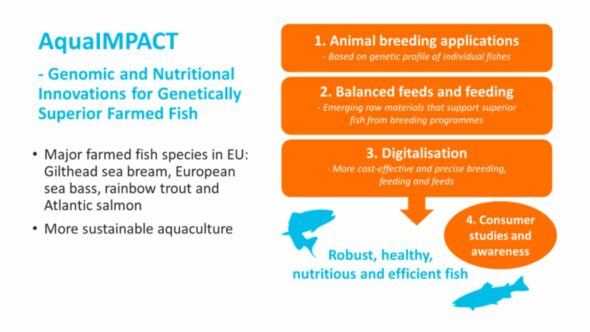 More information:
https://projects.luke.fi/aquaimpact
www.futureeuaqua.eu
www.ifishienci.eu
www.newtechaqua.eu
www.aqua-faang.eu